Last week we talked about customer and employee amazement from Shep Hyken's book, The Amazement Revolution. This week I want to touch on the importance of customer engagement, and more specifically, the quest for EXTREME customer engagement.
We all know that our customers are more connected than ever before. Due to their instant access to information, and more options, customers are highly informed and thought of as less tolerant to a company's challenges or mistakes. When ICMI and USAN surveyed the contact center community on customer engagement in April 2013, 44% of respondents felt their connected customers did in fact expect a higher level of service. Some other demands of the connected customer include more customization, personalized service, and faster responses.
In due part to the connected customer demands, brand loyalty is arguably not as prevalent or as easy to achieve as it once was. With all the choices that consumers have these days, differentiation no longer sits squarely on the shoulders of a product. The rapid adoption of social and mobile has only exacerbated the disloyalty, as consumers now have access to more products, from anywhere around the globe, and at any time of the day. More often than not then, service and support are the catalysts for keeping customers from jumping from one brand to another.
So where does customer engagement fit in? Does it matter if a customer has a good experience, yet is not truly engaged with a company? And how is extreme engagement created?
The Fickle Consumer
I acknowledge that like many consumers, I can be rather fickle with my brands. I consume more than a few things that I consider commodities or where I am brand impartial. I am a loyalist though, if you treat me right, periodically interact with me, offer me the options I need, and deliver a great product. I will not only spend greatly with you; I will sing your praises far and wide. I don't even blink when passionately recommending LG front-load washers, NIA24 skincare, bareMinerals makeup, or Vega protein. As far as I'm concerned, my quest for products in these categories is over. I'm in. You have me. I am what you'd call extremely engaged.
I actually prefer being loyal to a brand because it is easier. I can order online, I know my size/shape/color/taste, and I can take advantage of stock-up sales and special offers. It takes the guesswork out of purchasing.
I used to also think of myself that way when it came to athletic clothes. As a bit of a fitness fanatic, I'm thrashing my gear an average of 2 hours a day. I also work from home, so those other hours are typically spent in a revised chicer version of my gym attire. I say all this, because once I was an advocate and fierce brand loyalist to lululemon. That was until my connected-consumer high expectations were failed by them, and the service at Sweaty Betty stole me away.
Extreme Customer Engagement
In the aforementioned survey, ICMI and USAN wanted to better understand the complete cycle that predicated a customer's lifetime value. We felt there was an important segment not usually discussed in the core of the process; that customer engagement I referenced earlier. And not just engagement, but rather the extreme engagement that every brand should strive for!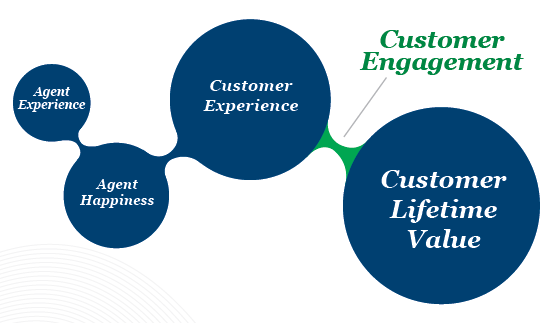 ICMI discovered that only 25% of companies feel that their customers are extremely engaged with their brand. While there are a number of reasons for this, the bottom line is that there is great room for improvement!
Extreme engagement is a byproduct of repeated and consistent positive customer experiences. It doesn't just happen naturally though. It requires two key elements from the organization providing the service and support – 1) multiple channels and customer-preferred touch points, and 2) proactivity from the company to the customer.
When properly achieved, extreme engagement will reap powerful things for a company – new customers, additional revenue, reduced inbound traffic, and customer loyalty – all of which will provide that golden ticket of higher customer lifetime value.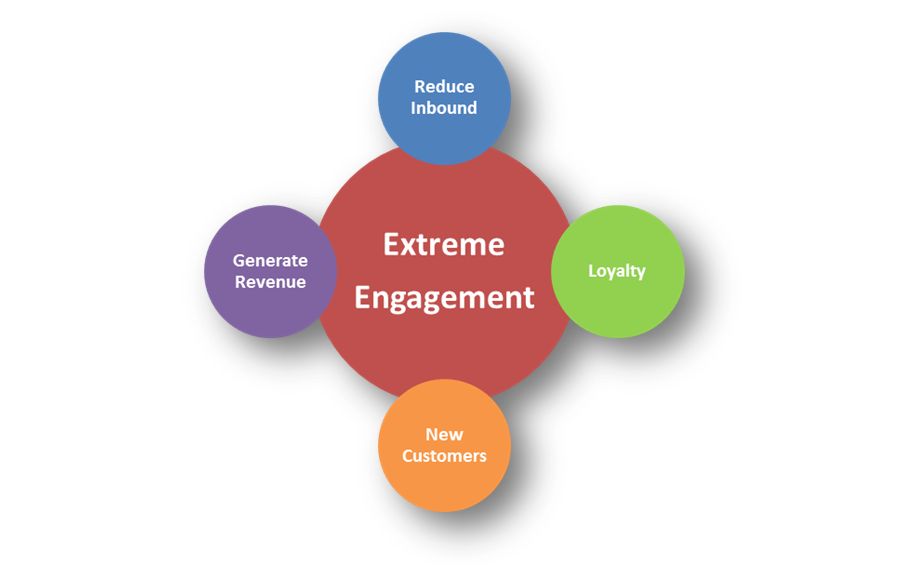 And let's not forget that extreme engagement also leaves the customer with high satisfaction and the feeling that they are supporting the right company and getting the best value. Extreme engagement is reciprocal, and customers too want the satisfaction and ease of being loyal to a brand.
lululemon Loses My Loyalty
As I mentioned earlier, I used to be a loyalist to lululemon. In the past, their products were far superior to competitors, their company values aligned with my personal ones, and their in-store and online service was remarkable. I felt appreciated when I purchased their products. Their gear is not inexpensive, so it was considered an investment. And it was worn and sold by athletes and fellow fitness fanatics that I wanted to emulate.
And then something happened. Suddenly the quality went down, it seemed like anyone could wear and sell their products, and they stopped paying attention to their loyal customers. Their return policy is so strict that their customer service team has become unfortunately adept at blaming the user for any quality issues. lululemon made a business decision to start marketing to the masses and in turn sacrificed quality and service which shut out their extremely engaged customer base.
Here's some recent feedback on their site that has yet gone unanswered.
"lululemon, you make workout clothes. They should be designed and built to hold up. Your customers run, we jump, we squat, we do burpees, we do arm balances, and we sweat. We push ourselves to perform, and we expect our clothes to keep up." – katier, July 23, 2013
"I am beginning to look elsewhere for where to place my loyalty." – cyclenic July 23, 2013
"People that buy lululemon are buying it because of how the clothes make them feel, and what lululemon represents. It's not just clothing, it's the way someone feels transformed into a better 'self' when wearing them. Hopefully someone at lulu will wake up and see it before it's too late and they lose all their loyalists." – txaggieholly July 23, 2013
When the product becomes average and you as a customer no longer feel your experience is worth the effort, your engagement with the brand naturally deteriorates. When no one from the brand interacts with you AND customer service ALSO suffers, then suddenly there is no differentiator to keep you loyal. Enter the competition.
Sweaty Betty Masters Extreme Engagement
And so, like the social butterfly that I am, I went out to twitter and Facebook to start researching alternatives to lululemon. And I happily found Sweaty Betty. And in a way, they found me.
Even before I made a purchase, their customer service team was interacting with me on social – in the channel that I preferred and in the "voice" that resonated with me. Since I couldn't physically walk into a store (they are opening here in the US later in the summer) they created that in-store experience for me.
So I made the purchasing plunge. And to my delight, their clothing is durable and unique, their shipping is fast, and their engagement to and with me continues to be exemplary and personalized. After only my second purchase, one of their customer service people realized I would be speaking at the callcentre conference in London later this year and invited me through a twitter DM to stop by for a boutique fitness class. Yeah, I'll be there.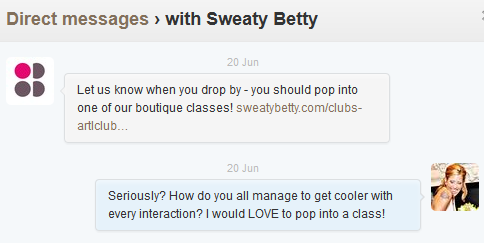 Their engagement with me is both multichannel and proactive. I have asked questions on their site, over on Facebook, through email, and on twitter. All have been answered expeditiously.  And when I put things in my shopping cart and get distracted or feel a little ambiguous? I get a witty and polite reminder from Sweaty Betty to pick up where I left off…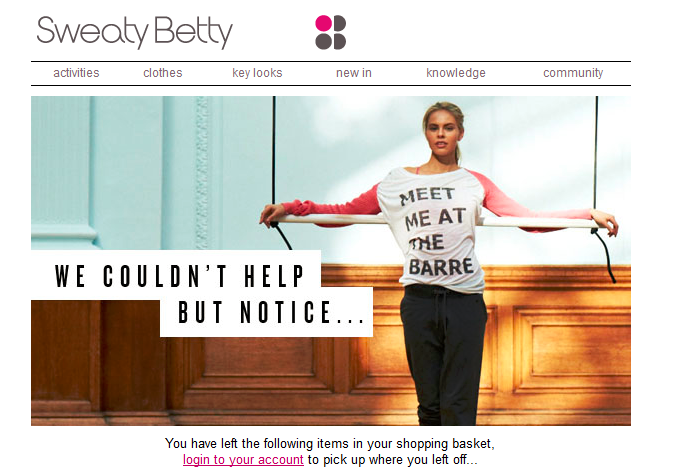 Sweaty Betty, I'm in. You have me. I am what you'd call extremely engaged. And I can't wait to meet you and thank you in person.
You can learn more about extreme engagement by checking out the complete research report and best practices guide, "Extreme Engagement in the Multichannel Contact Center: Leveraging the Emerging Channels", which is now available for purchase from our website.  You can also download the complimentary Whitepaper "Six Best Practices for Optimizing Multichannel Support".
This post was originally published on ICMI.