Have you ever had a customer service experience that literally leaves you disheartened? Have you continued to engage and be loyal to the brand, even after they've failed you?
Last week in Extreme Engagement from Sweaty Betty, we disclosed that only 25% of companies feel customers are extremely engaged with their brand. ICMI and USAN discovered this less-than-stellar statistic during a second-quarter research survey that examined customer engagement and the emerging channels. This lack of engagement will eventually lead to brand disloyalty and opens the way for competitors to step in and win away customers.
But when properly achieved, extreme engagement will reap powerful things – new customers, additional revenue, reduced inbound traffic and customer loyalty – all of which will provide higher customer lifetime value. Extreme engagement requires repeated and consistent positive customer experiences, and it certainly does not happen naturally or in many cases easily.
In his aptly titled book, Service Failure: The Real Reasons Employees Struggle with Customer Service and What You Can Do About It, Jeff Toister reveals a painful blow to contact centers around the globe – Humans are not naturally good at customer service!
What? So how can companies expect to achieve extreme engagement if a vital part of the engagement process – the employee – doesn't naturally come equipped with remarkable customer service skills?

The Service-Engagement Connection
"We have the potential to deliver amazing service, and some of us are better at it than others, but every person has significant obstacles to overcome," says Toister. "Difficult bosses, processes and procedures that don't work, and difficult customers can all get in the way."
Sounds a lot like the agent/employee experience has an impact on the customer! According to research recently conducted by LiveOps, as agent productivity and "happiness" increases, so does the customer experience, and that is what translates into loyalty. Better Agent Experience = Better Customer Experience = Better Customer Lifetime Value.
ICMI and USAN expanded on this formula for customer success slightly and also considered the component that really seems to drive loyalty – customer engagement.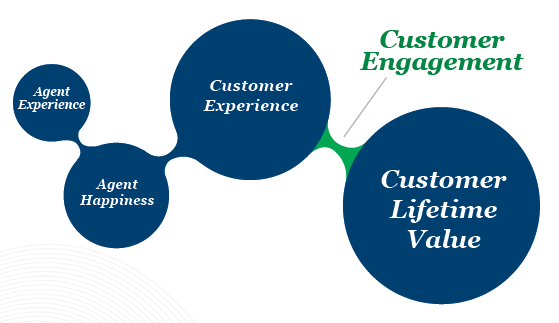 If you lose the customer engagement due to repeated poor customer experiences, then you are likely to lose the customer as well. That part unfortunately happens pretty naturally.
Double-Agents Exist in World Market
I'm personally in the relocation process and that inevitably requires pretty hefty investments in both time and money. So to facilitate this reality, I've utilized online shopping sites to make some key purchases. One of the things we needed for the new house was a foursome of barstools – something rustic, yet modern. The perfect ones at a great price appeared to be at World Market. Now, the specs on this particular item were admittedly a little light, but I figured it was worth the gamble. If things didn't work out, we could always send them back. Buying online seemed to be the most convenient option, as we don't have a vehicle large enough to haul four stools, and the closest retail store is well-across town. And let's face it, one of the crucial advantages to purchasing online is the shipping process. I buy; you deliver.
Unfortunately the stools were too short for the table we intended them to accompany. So, I pulled out the shipping receipt and set about the return process. Except that I was stumped. According to my return label, I was expected to return these stools to California via the post office. And I was expected to pay the return postage. Hmmm…I just didn't think that I could place four boxes that each stood 4 feet high and weighed 40 pounds on my front porch plastered in stamps and convince my nice USPS man to casually toss them in his mail bag. I called the toll-free number instead.
My conversation with a World Market customer service agent went like this:
Me: I need to return the four stools from my recent order.
Agent: Sorry to hear that. Here are your options 1) Mail the stools back…
Me: Sorry to interrupt, but I don't think the mailman will take the stools.
Agent: Oh. Then you will want to do our next option. 2) Return the stools to your nearest World Market retail store…
Me: Sorry to interrupt again. But I don't have a vehicle large enough to do that. That's why I had them delivered.
Agent: Oh. Then you will need to do this. 3) Take the stools to your nearest UPS or FedEx drop-off…
Me: Sorry, but if I don't have a vehicle large enough to take them to a store, how will I get them to UPS?
Agent: Oh. Then you should do this instead. 4) Call UPS or FedEx and have them pick them up.
Me: So…you can't actually facilitate a return in any way? I have to call UPS or FedEx, schedule a pick-up myself, AND pay for it?
Agent: Yes ma'am.
Me: So…I paid you to ship me something and I have to pay again to return it? I'm confused. If you could deliver it to me, why can't you likewise pick-it up?
Agent: That's our policy ma'am. Is there anything else I can assist you with today?
I admit that I was flabbergasted with the apathy and the lack of attempt to find me an actual solution. Toister refers to this as the "The Double-Agent Problem" wherein the employee is serving two potentially conflicting principles – their employer and the customer.
"Rigid policies that don't allow for employee discretion, even when they become absurd or unfriendly to customers, can lead to a double agent problem," he says. "Employees who feel caught in the middle can sometimes make matters even worse if they try to remain neutral."
Toister says that double-agents are eliminated when companies remove the factors that create them in the first place – those policies that inhibit employee empowerment and customer satisfaction.
World Market Has Principal-Agents Too
Left without a practical solution, I consulted my better-half. He calmly suggested that we remove the backseat from my vehicle and take two trips to the closest World Market. We crammed half the boxes into my car and I proceeded across town.
When I was about 5 minutes out, I called the store and explained my intentions. The nice man on the phone instructed me to park in front and come in through the store instead of via the loading dock, as they had just received a large shipment and were still unpacking it.  No problem. He also said I should ask personally for him and he'd help me bring the boxes into the store. Awesome. Rather, awesome in theory.
Reality: the parking lot was full; I parked illegally. The store was packed, and the nice man was busy. He called for assistance and the first employee said she couldn't help me because her back was sore. A second employee then informed me he needed to first find a cart before helping. He also said it would have been beneficial had I parked by the loading dock. I walked back out to the car and hand-carried in both boxes myself.
An hour later I was back with the second set. By this time the store had quieted down and yet no one offered assistance as I hauled in the final two stools.
Toister says the principal-agent, or employer-employee relationship has two major challenges. The goals can be in conflict with one another and employees/agents have the right and ability to operate with a degree of autonomy and thereby pursue their own self-interests. This autonomous attitude allows employee disassociation and keeps a solution from being provided.
"To overcome the principal-agent problem, employers need to find a way to align their interests with their employees' personal motivations," explains Toister. "Customer service levels can improve dramatically when employees and employers share the same interests. Employees are much more likely to follow procedures, adhere to policies, and give extra effort when they are committed to the company's goals."
The Competition
Afterwards I checked out several competitors to World Market and verified that my expectations aren't unusually high for a furniture return. They aren't. In fact, here's what one of their competitors has to say, "We stand behind the quality of our products and will make things right if you are not satisfied with your purchase. We believe that we can work together with our customers to make every purchase a positive experience."
So I ask again, would you continue to engage and be loyal to this brand, even after they've failed you?
This blog originally appeared on icmi.com.